Storage with a taste for adventure is now made possible by the company who calls itself, G-TECHNOLOGY.  For those adventurists who want to capture their experiences through video or photography, this external hard drive is built to be your rugged companion.  A dependable product that you can rely on for extreme conditions and not expect to lose the data you transfer over to it.  Assuring that your video and images will be safe and sound, the G|Drive ev ATC is a solid fit for your outdoor activity needs.  In January of 2015 at the International Consumer Electronics Show, G-Technology announced new rugged storage solutions that help keep content safe in virtually all environments.
Key Aspects of Equipment:
Water Protection
Shock Resistant
Pressure Resistant
Dust Resistant
Floats in Water
Additional Key Features:
Stylish, aircraft grade aluminum
Portable w/ UDB and Firewire bus power
Lighting quick data transfer
You need sturdy, portable and lightning-quick equipment you can depend on while you capture and store those exciting moments in time. G-Technology drives were designed specifically for bump and grind strength, and offer bus power, tons of storage space, Thunderbolt speed, RAID redundancy, extreme reliability, and of course, it looks pretty damn good.
These drives are built to last in high performance circumstance which is why we are recommending this piece of gear for adventurers, travelers and extreme sport practitioners.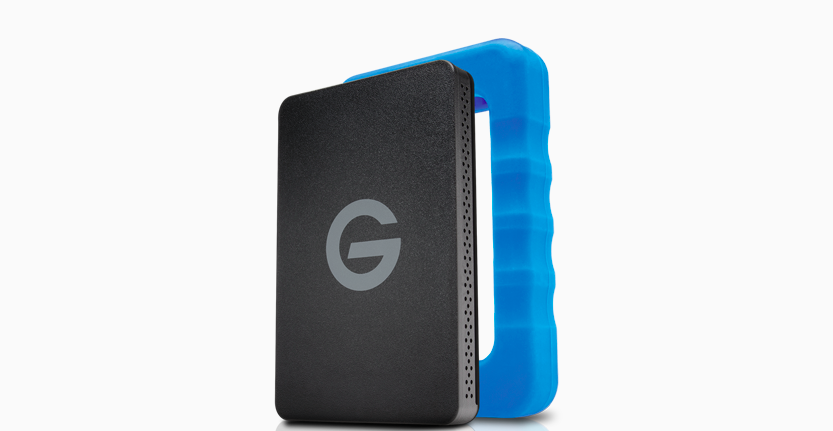 The G-Technology is terrific for filmmakers and photographers alike but we see how useful it can be not only for creatives but also for people who need tech to take hold of their professional skills in the great outdoors.  Whether you are skiing, climbing, out in the jungle exploring or even hiking, the G|Drive ev ATC is a great solution when you need to push boundaries.
G-Technology specializes in external storage devices.  G-Technology was originally founded by Roger Mabon in 2004 as a self-funded startup and was acquired by Fabrik Inc. in January 2008 for an undisclosed amount. The company introduced the world's first 500GB 2.5 portable storage device at Macworld Expo in 2008.  Currently owned by HGST, which in turn is owned by Western Digital.  G-Technology has become know for the products it has released over time, including, G-Raid, G-Speed, G-Safe and G-Drive.