Google announced today its release of the new Google Calendar for iPhone. You can download the new app directly from Apple's App Store.  Now travelers and adventurers can use a terrific tool to set up to do lists and schedule activities you don't want to forget.  Until now, Google Calendar was only available on iOS via Google Sync and finally releasing a native app for Apple's mobile platform is good news for iPhone users.
Those familiar with Google Calendar will be happy to know that calendars best feature's found on the Android app will also be found on the iPhone App.
Here's a look at a 30 Second Video Clip:  Introducing Google Calendar App for iPhone
Just to go over some of the specifications so you know exactly what you are getting, we bullet-pointed some of the main features of the Google Calendar App.
For example:
There are an assortment of ways to view your calendar;  switch between viewing a single day or multiple days at once.
You can convert events to emails into Calendar events wherever the app thinks it necessary.
Schedule View – come with the ability to view your schedule at a glance with maps of places you're going. 
Assists – a neat feature that gives you suggestions to places, event titles, contacts to save you event creating time.
Flight, hotel, concert, restaurant reservations and more are added to your calendar automatically.
In addition to the main features, Google Calendar for iPhone works with all the calendars that are already set up on your phone for both normal Gmail accounts and Google Apps accounts. With all that being written, it appears as though it is designed to replace Apple's Calendar app on iOS.
You can use the Google Apps Mobile Management which allows admins to set up mobile security policies and it's included with Google Apps and Google Drive for Work.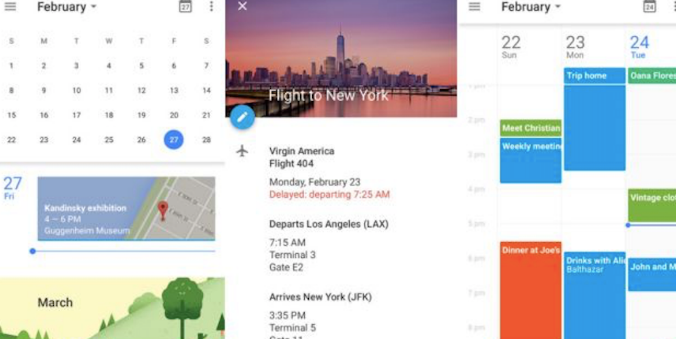 You can get this useful Productivity App for free at the i-tunes store.  If you are traveling to a new country for a holiday, the Google Calendar App for your iPhone's 'Assist feature' will come in handy, proposing places to visit and helping you take note in the events section so you are sure not to miss out on anything at all.