It has been a brutal winter this 2015, but that doesn't mean you can't enjoy it.  Before long the summer will be here and winter activity will be given its rest until it comes back full circle.  Rather than complaining about the severity of the cold, you can make the best of it by checking out the five great lakes region this year.  There is plenty to do in the region as we will mention below, but our main topic of discussion is on ice fishing as a fun activity, which you can do with friends or family on Lake Eerie.
According to the Great Lakes Environmental Research Laboratory National Ice Center, the Great Lakes total ice coverage is currently %85.5.  According to the diagram, the greatest ice coverage is on Lakes Superior, Huron, and Erie.  Quite common for Lake Erie to freeze over due to the fact that it is the most shallow of the lakes.  Ice fishing picks up speed usually in January when it is safe enough to venture out onto the Lake.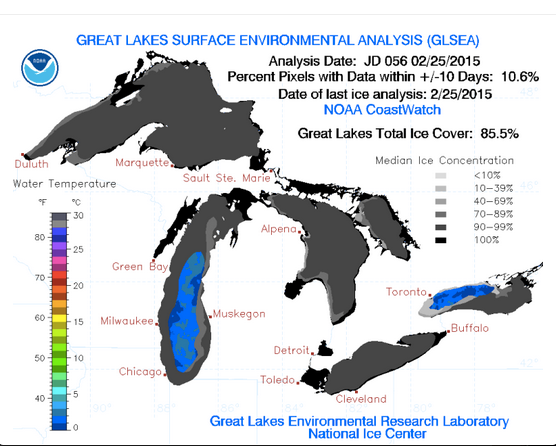 Ice fishing takes place every year at Lake Eerie but this year you can do even more.  Due to such cold temperatures and freezing ice conditions, additional activities have formed and been created that you can investigate.  If ice fishing isn't your cup of tea, that's alright because as mentioned, there are an abundance of other activities nature has bestowed upon us humans this year.
Here is a list of some of the things you can take part in:
Explore ice caves.
Discover frozen waterfalls.
Witness ice art all along the lakes.
Back to the Ice Fishing: Ice Fishing Tips To Follow for Safety
Never fish alone or if you do, at least, fish near other anglers.

Keep a flotation device with you whether it be a float or more preferably, a life jacket.

Always tell someone what you are doing and where you will be as well as what time to be expected home.
Be aware of your choice of fishing grounds.  Steer clear from bridge pilings, docks and feeder streams because that signifies that the ice is thinner in that area.
Keep a cellphone with you at all time, fully charged and keep in a plastic bag to prevent moisture.
The Ohio Department of Natural Resources recommends anglers hire a licensed ice guide to help them.
Visit Western Lake Erie at Port Clinton, Ohio.  Go to Catawba Island State Park and catch yourself some walleye.  You can get yourself a Charter with experienced guides who have been doing it for years.