Video demonstration:  HEIMPLANET Inflatable Tent
HEIMPLANET is one of the best inflatable tents out on the market today.  Extremely versatile, durable and easy to use.  Keep it in the backpack for simple take out and foldable put back.  An excellent choice of tent for camping, outdoor music festivals, outdoor art festivals and more.
The Double-Walled Air Struts consist of a double-layer construction with consistent air pressure over a long period of time due to its strong polyester fabric.  You get Quick Inflation and Deflation, a quick valve for inflation and a large valve to release air for disassembly.  The patented multi-chamber system allows the entire frame of the tent to fill with only one step upon pumping.  The pump is available for each tent model.
Some different types of HEIMPLANET tents include The Wedge, The Cave and Mavericks.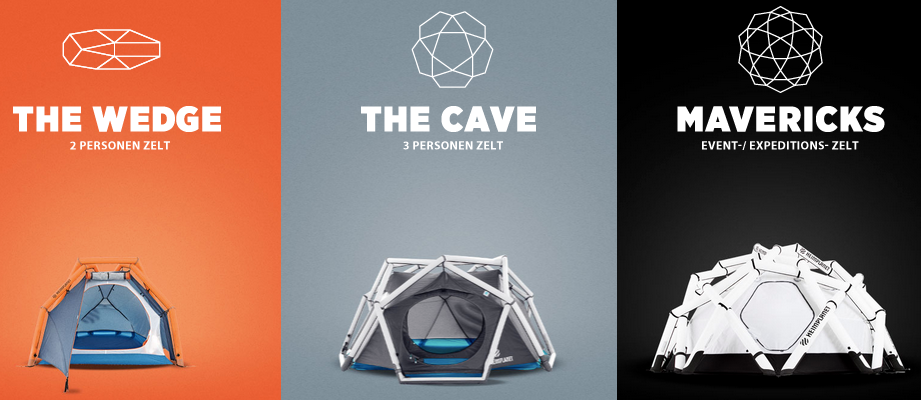 The Wedge:  Wedge is the inflatable 2 person tent. Easy to handle, fast to inflate.  Intuitive to manage with progressive design.  The patented Multi Chamber Safety system provides emergency stability in case of repair.  It has reduced weight and a tightly packable size.
The Cave: The Cave is the first inflatable geodesic tent. The inflatable geodesic frame provides the most efficient and stable structure called IDG or Inflatable Diamond Grid.  The structure does not need more than a minute to inflate.
Mavericks: This is the tent built for the most extreme range.  Good for a base camp and sizable group and prepared to combat heavy weather conditions.
The HEIMPLANET tents are all are extremely well made, simple and have an intuitive structure.  You just roll them out – inflate – done.  Good stability and solid insulation for bad weather and high wind.  There is windows and entrances for ventilation.  They also have a pretty intricate design to them that makes them stand out and unique when compared to other tents.
The HEIMPLANET company also creates additional products for the great outdoors.  You will find an assortment of bags such as their DayPack, RuckSack, Duffle Bag or Weekender.
The company was founded in 2008 by two friends with an independent spirit and love for outdoor fun.  They have a never give up belief system, which reflects in the products they produce in a positive way.
Please visit:  www.HeimPlanet.com